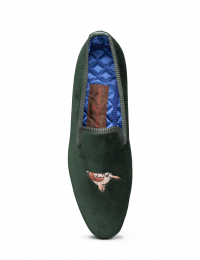 $370
Woodcock
$

370
Matthew Cookson partridge slippers are produced with hand embroidered cotton velvet uppers, satin quilt linings and thin leather soles. They are the ultimate mixture of luxury, elegance, and comfort. Hand made in England. Normally shipped the same day, however due to a fast turnover of our stocks, we can be temporarily out of stock in some sizes, if this occurs with your order, you will be immediately contacted with the expected date of delivery. The epitome of elegance and comfort.

They are handmade in England.

Any order is typically shipped the same day, but due to its popularity, it's possible that your order may be temporarily put on hold due to a temporary out-of-stock situation. You will be contacted immediately to inform you of the delivery date.